Repairs moisture barrier & soothes and nourishes dry irritated skin
Regular price
Sale price
$33.00 USD
Unit price
per
Sale
Sold out
Free UK delivery over £40.00 | 60 Days returns
Product description
One Ingredient. Hundreds of Uses.
Fragrance Free. Vegan. Natural
Our unrefined, unprocessed raw Nigerian Shea butter is the ultimate African beauty secret.  Its potency lies in its naturally high concentration of vitamin A and E as well as it's antioxidant properties that can help improve texture of skin. Gold Shea butter is multi-purpose moisturiser for all skin types with deep moisturising properties to help heal and repair cracked, dry, irritated skin for a healthy glow.
Traditionally used as a "cure-all" balm, with women in Africa using it on everything from eczema, stretch marks and scarring to babies' bums. An excellent natural alternative to petroleum jelly. 
Our Gold raw Shea butter has a waxy texture and a natural earthy fragrance.
Ingredients
Butyrospermum Parkii (Shea Butter)
How to use
Scoop a small amount in the palm of your hands and rub hands together to warm up and melt then apply everywhere - body, face, feet, and hands.
Face: Raw Shea butter is rich so use it on dry patches on your face or has a 10-15mins face mask or a DIY overnight mask depending on your skin type.  Use to treat chapped lips and an aftersun treatment. 
Body: All over body butter - great for really dry areas especially hands, feet, elbow.  Has been known to help skin conditions like eczema. Also, use it as a base to make your own creations.
Baby: Made from one natural vegan ingredient so it's great for babies and kids. 100% safe. Use for nappy rash, moisturiser, belly balm.
Liha's Tip:

Layer on after your Idan oil ritual on extra dry areas like bottom of feet, knees and elbows and massage into cuticles before bed. A wonderful barrier cream for extreme sports lovers perfect for being out in the elements to protect against cold weather and winds from hiking, skiing or sailing!
Shipping & Returns
Processing Time
Please 1-2 working days to prepare & ship your order.
Transit Time
US Shipping: 5-7 working days
UK Shipping: 2-3 working days
EU Shipping :3-7 working days
Rest of the World: 5-14 working days
*All international customers are responsible for all customs and duty fees that are incurred during transit*
Processing + transit time excluding weekends and public holidays.
Refunds & Exchange
We are happy to accept returns and offer exchanges, credit note or refunds on any product you are not completely satisfied with, simply return the unused/unopened product in its original packaging within 60 days of receipt. Please return the item/s using the returns label that comes with your order.

Unfortunately, we cannot bear the cost of shipping the returned item.
Please email: info@lihabeauty.co.uk if you have any issues or inquiries
Pair with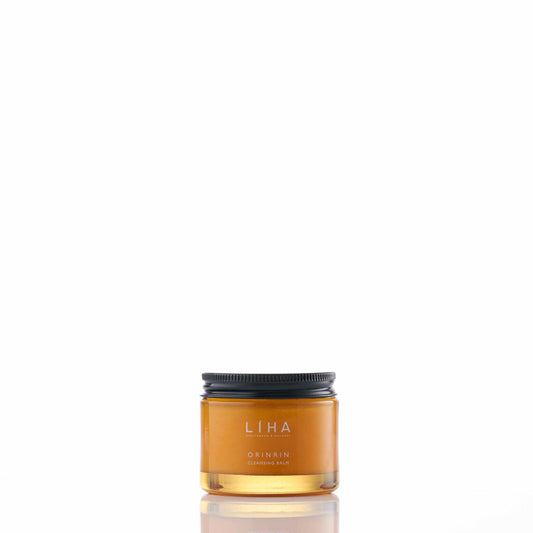 Regular price
Sale price
$42.00 USD
Unit price
per
View full details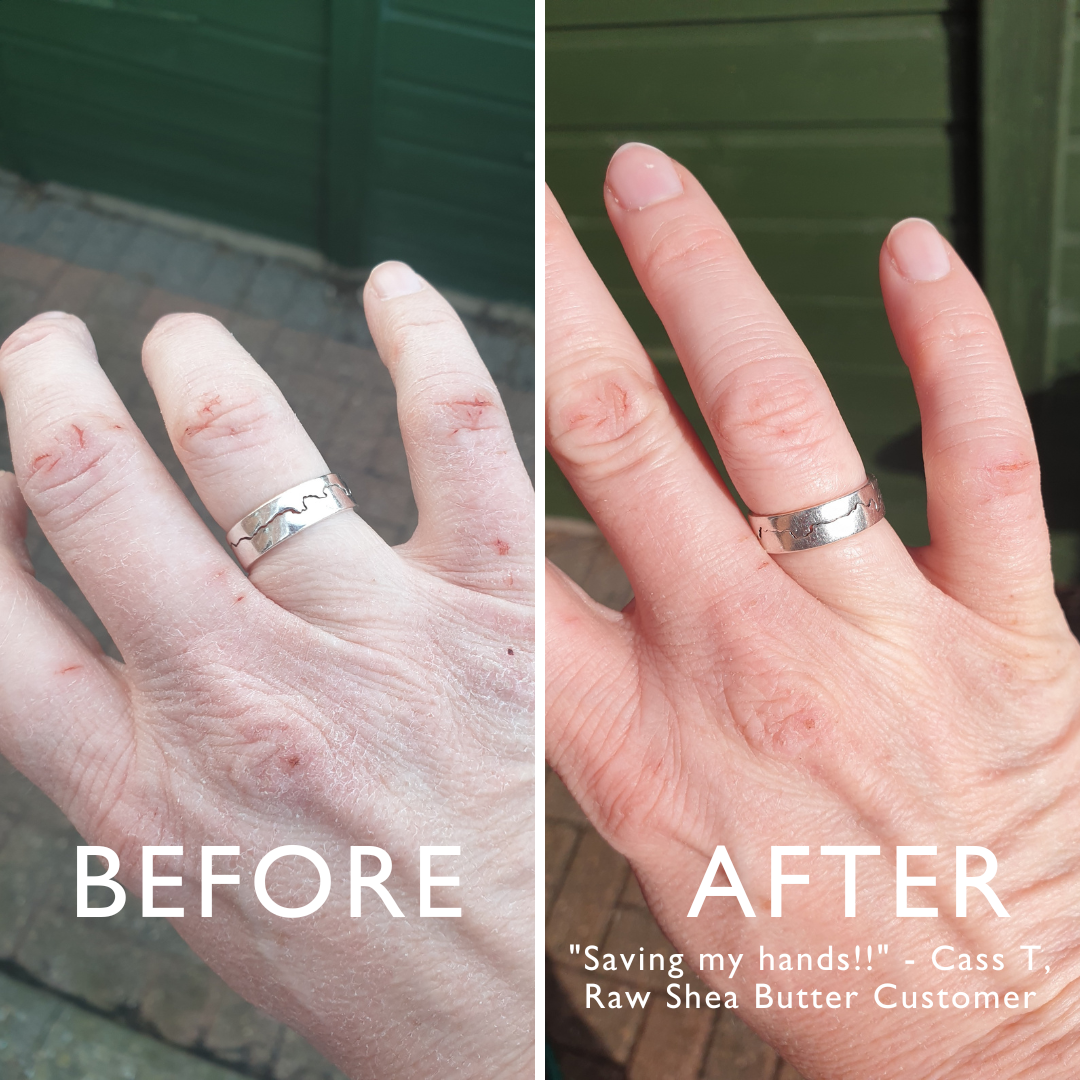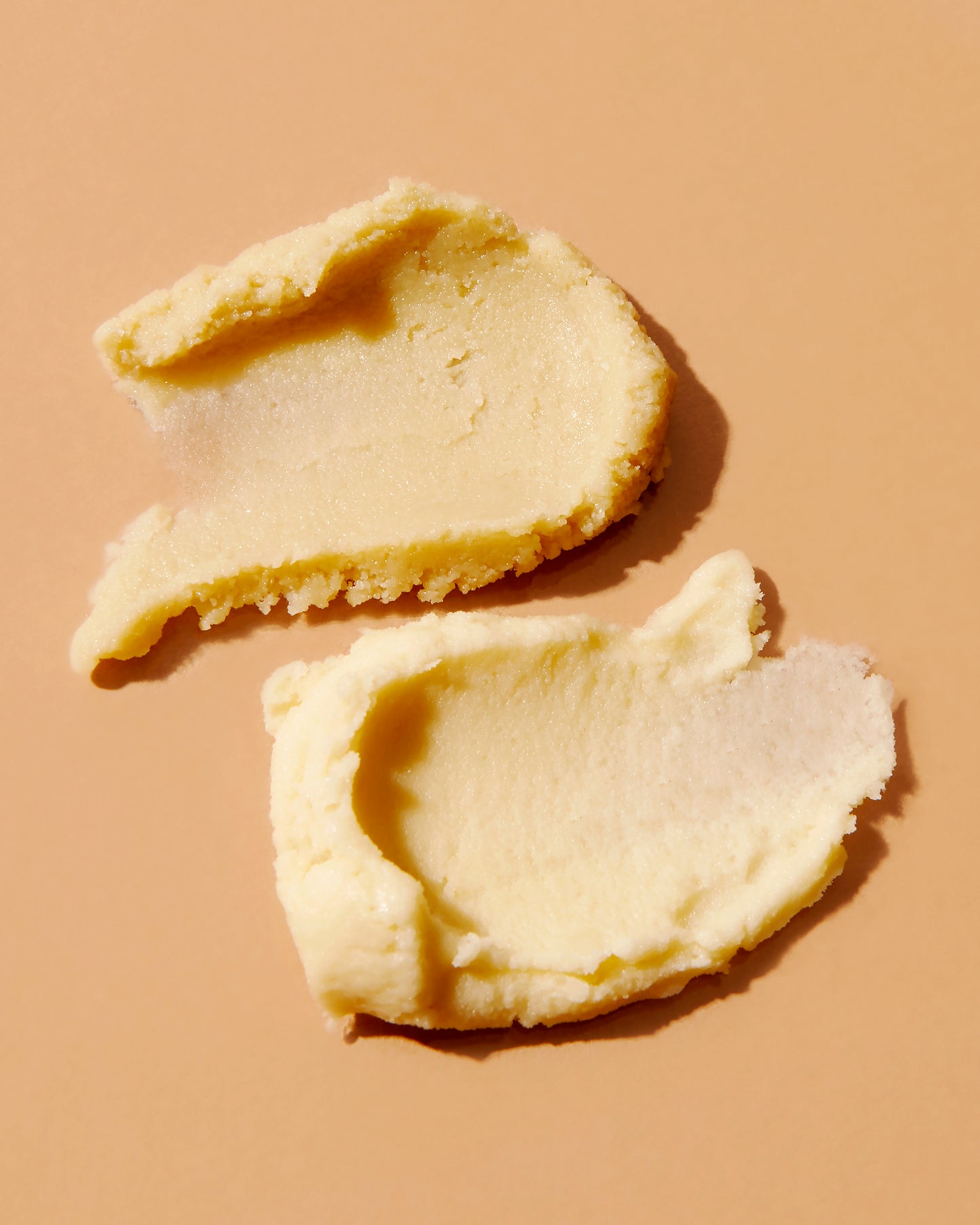 FAQ
What is the difference between Ivory and Gold Shea Butter?
At LIHA Beauty we offer two types of vegan raw Shea butter: Ivory and Gold. Both our Shea butters are unrefined. The difference in colour is attributed to the region in which the Shea butter was extracted and can also be based on the season and production methods. The same amazing skin health properties remain, regardless of the colour, however, depending on your personal usage of the butters you may prefer one over the other. Both are rich in Vitamins A and E and work wonders for multipurpose moisture.
Ivory Shea butter is from Ghana and can be crumbly in texture. It has a nutty vanilla scent, it's perfect butter for keeping small areas such as the lips, hands and feet moisturised on the go. 
Gold Shea butter is from Nigeria and has a more smoky, earthy smell remnant from the roasting process of the Shea fruit and waxy in texture. It can be seamlessly smoothed into larger areas of the body as well as being the quintessential weapon against dry, flaky and itchy scalps.
They are both really hydrating and nourishing but we would say the Gold Shea butter is slightly more moisturising and have had amazing reviews for treating eczema and other skin conditions. Check out what some of our customers told us about using our raw Shea butter to treat their eczema.
I have a nut allergy- can I use raw Shea butter?
We recommend not to use Shea butter if you have a nut allergy as Shea Butter is made from Shea nuts.
I have Psoriasis -can I use Shea Butter?
Psoriasis sufferers are advised to patch test before use as Shea butter encourages the regeneration of skin cells. People with psoriasis have an increased production of skin cells resulting in the build-up which is what is associated with psoriasis. Some people have found it helpful for the condition.
Does raw Shea butter work well for eczema?
The short answer is Yes but everyone's skin is different. While our raw Shea butter have had some rave reviews from customers you will need to try it for yourself - HERE
Raw Shea butter is super Rich in Vitamins A, E and F Shea butter is an all natural treatment for eczema that can help to reduce flare ups, minimise scarring and give relief from itchy, skin.
Are your products suitable for during pregnancy and/or nursing?
As most women prefer to use unscented products during this time, our Shea butter is a customer favourite to keep stretch marks at bay during pregnancy and as a nipple balm during nursing. It even works wonders as a nappy balm!
Can I use raw Shea butter on my face?
Shea butter is great for hydrating most of your skin and is low on the comedogenic scale. However, raw  Shea butter is very thick and rich, and can make some people break out but everyone is different and we have customers who use it on their face with no issues. We, therefore, advice you to patch test for yourself to see if it suits your skin. Personally, I use it on dry patches of my face especially in winter or as a 10 minute face mask.
So,if you need a hit of hydration on your face, leave the Shea butter on for about 10mins and then use a warm flannel or micellar water to gently wipe away.
Beaut ✨
I'm recently trying to change to more natural products. Gold Raw Shea Butter from LIHA is very nourishing. I must say the smell was a bit strong to begin with but after a few uses I'm so use to it. I also want to try the other products thank you 🙏
Wonderful
I use it everyday, for me and my little one.
Shea Butter Heaven
I love this shea butter and I think it's the best one out there. Beautifully smooth consistency and a delicately natural smell. I warm a little in my hands after the shower for an everyday all-over foot treatment. I use it on my elbows, hands, knees or anywhere which needs an extra bit of care. It's also lovely on legs and décolletage for a glamorous shine. I could not be without it.
Shea Butter Gold
Amazing cream for my daughters eczema, I have searched long and hard for a truly natural cream and there really is nothing out there that fits the bill like this.
That shit amazing I can't even lie I'm beautiful man now