Sample our bestsellers in this mini gift set
Regular price
Sale price
$55.00 USD
Unit price
per
Sale
Sold out
Free UK delivery over £40.00 | 60 Days returns
Product description
The discovery gift set is an ideal introductory set for anyone new to LIHA Beauty or those on the go. It also makes for a wonderful gift option. This kit includes four essential products in convenient trial sizes in a cotton bag, perfect for testing out the LIHA Beauty line before committing to full-size products.

The kit includes:
30ml Idan oil
15ml Shea Butter
Mini Black soap
90g Queen Idia candle
Cotton Travel Bag
Ingredients
Idan Oil:
Cocos Nucifera (Coconut) Oil, Flower Parfum (Fragrance), Polianthes Tuberosa (Tuberose) Flower, *Benzyl Benzoate, *Linalool, *Cinnamal, *Benzyl Alcohol. *Naturally occurring in the fragrance.
Raw Ivory Shea Butter:
Butyrospermum Parkii (Shea Butter)
Ose Gidi Soap
Sodium Shea Butterate, Sodium Cocoate, Sodium Olivate, Aqua, Glycerin, Molasses Extract, Cymbopogon martini Oil, Citrus aurantium bergamia Fruit Oil, Styrax benzoin, Moringa Oleifera Leaf Benzyl Alcohol*, Benzyl Benzoate*, Geraniol*, Limonelle*, Linalool*
How to use
Idan Oil:
This natural product will solidify in cooler temperatures. Opt out of being busy for a while whilst you wait for it to melt.
Place under warm/hot running water or in your shower until it returns to liquid. 
After bathing or showering apply to damp skin, massaging all over the body to leave a glowing silky finish.
We love to use this for absolutely everything from leave-in hair conditioner to body oil, or if we are feeling really indulgent, slathering it head to toe before bed and rinsing off in the morning for truly silky fragranced skin. Some customers have even been known to decant it and use as a solid perfume. Let us know what new uses you discover.
Raw Ivory Shea Butter:
Suggested use: All you need is a small amount, let it melt between your hands and apply everywhere - body, face, feet, and hands.
Face: Raw Shea butter is rich so use it on dry patches on your face or has a 10-15mins face mask or a DIY overnight mask depending on your skin type.  Use to treat chapped lips and an aftersun treatment. 
Body: All over body butter - great for really dry areas especially hands, feet, elbow.  Has been known to help skin conditions like eczema. Also, use it as a base to make your own creations.
Baby: Made from one natural vegan ingredient so it's great for babies and kids. 100% safe. Use for nappy rash, moisturiser, belly balm.
Liha's Tip:

Layer on after your Idan oil ritual on extra dry areas like bottom of feet, knees and elbows and massage into cuticles before bed. A wonderful barrier cream for extreme sports lovers perfect for being out in the elements to protect against cold weather and winds from hiking, skiing or sailing!
Ose Gidi Soap:
Suitable for daily use on body, twice weekly as a facial exfoliant.
Liha's Tip:

Team the soap with the Idan oil in the morning for a super refreshing and calming start to the day. Make your shower a little manifestation station by washing with soap all over and imagining all negative emotions disappearing down the drain with the water. Emerge feeling cleansed, burn some incense (or our candle) and give yourself a massage all over with Idan oil after air drying. Repeat positive manifestations or journal to get your day started right!
Queen Idia Candle:
The burn time for the 90g is 15 hours and the 220g is approximately 40 hours.
Liha's Tip:

Try flame gazing if you find you are too restless for straightforward silent meditation. Play some high vibrational music or frequencies (852 hz is a personal fave, look on youtube). Sit comfortably, light the candle and take some deep breaths. Focus all your attention on the flame moving and your breath. When you become distracted just watch the flame, and watch your thoughts go by with it. Distance yourself from 'monkey mind' and come back to the present.
Shipping & Returns
Processing Time
Please 1-2 working days to prepare & ship your order.
Transit Time
US Shipping: 5-7 working days
UK Shipping: 2-3 working days
EU Shipping :3-7 working days
Rest of the World: 5-14 working days
*All international customers are responsible for all customs and duty fees that are incurred during transit*
Processing + transit time excluding weekends and public holidays.
Refunds & Exchange
We are happy to accept returns and offer exchanges, credit note or refunds on any product you are not completely satisfied with, simply return the unused/unopened product in its original packaging within 60 days of receipt. Please return the item/s using the returns label that comes with your order.

Unfortunately, we cannot bear the cost of shipping the returned item.
Please email: info@lihabeauty.co.uk if you have any issues or inquiries
View full details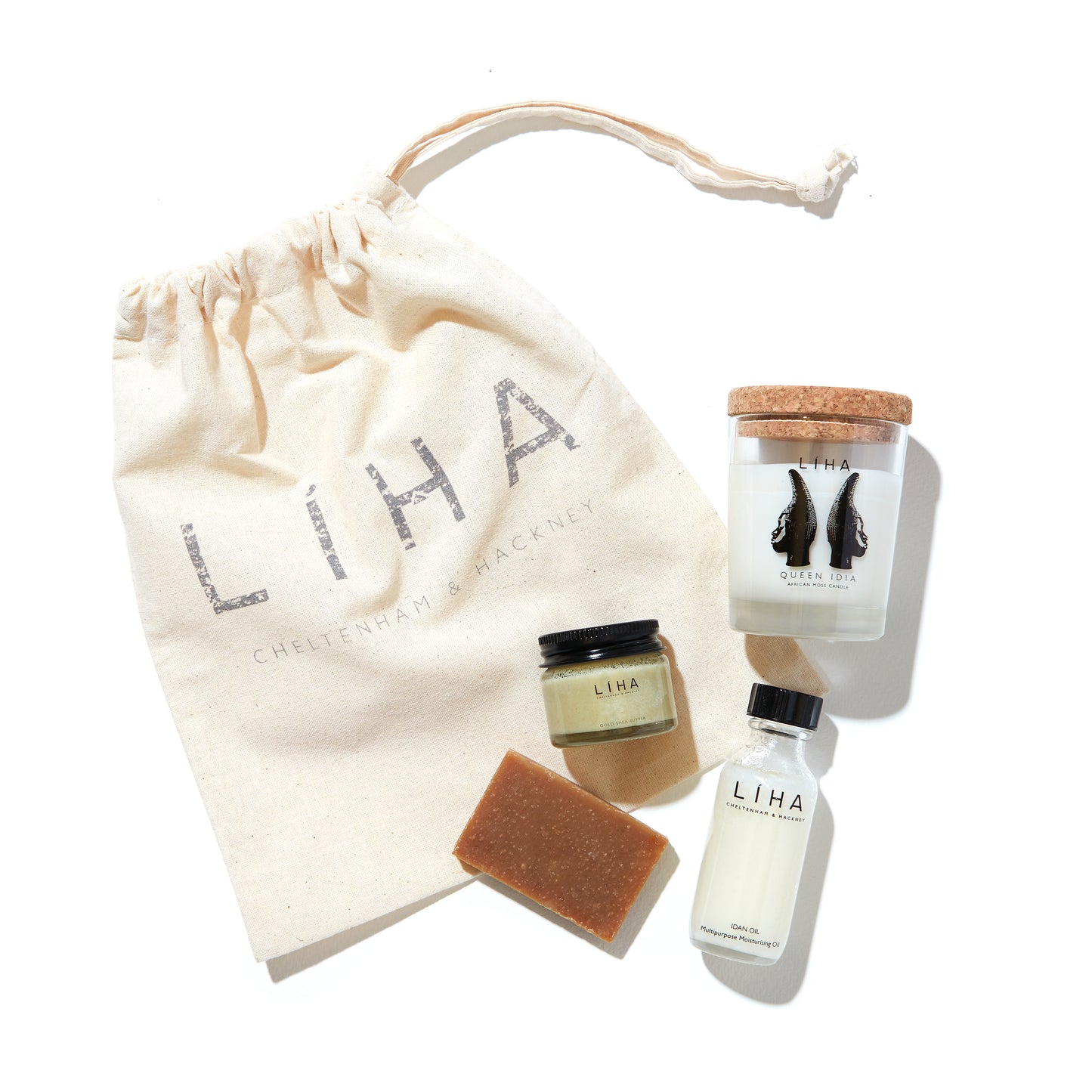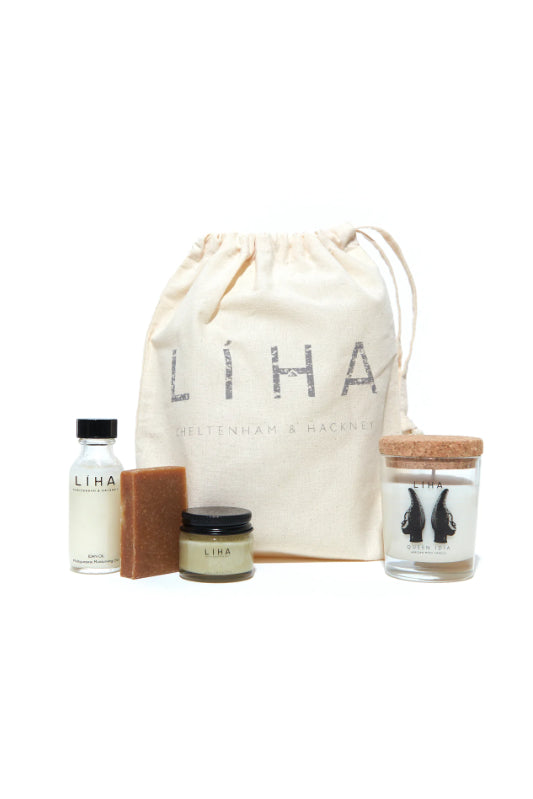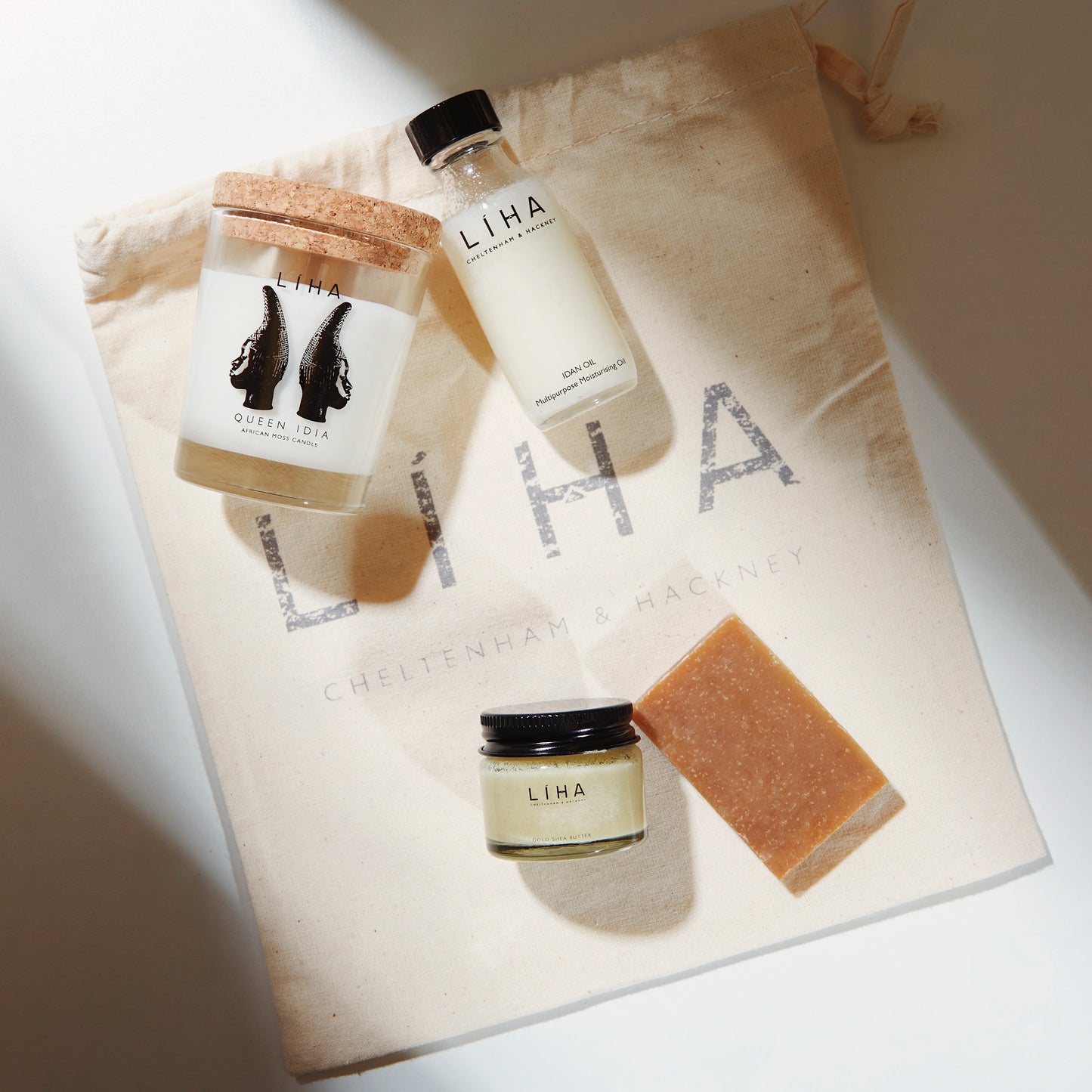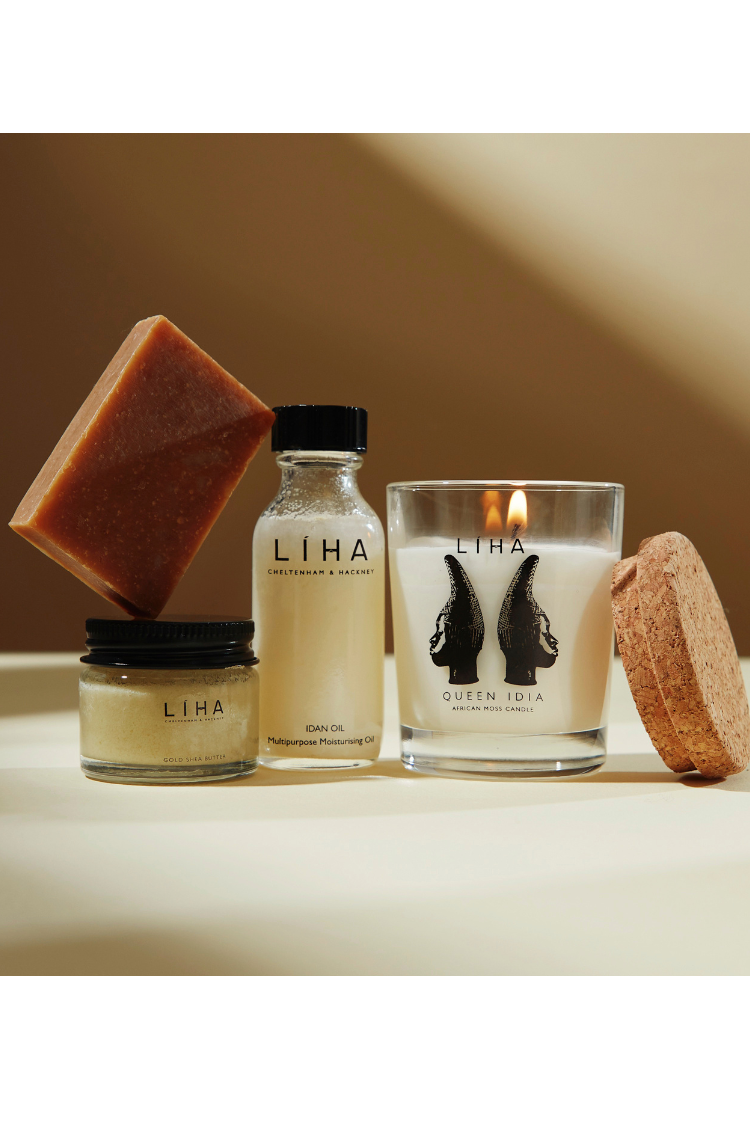 FAQ
Why is my Idan oil solid?
Our Idan oil is made from high grade coconut, so anything natural will change texture depending on the temperature. So in hotter climates (above 28 degrees Celsius) the oil will stay liquid but once the temperature starts to cool it will start to solidify – this does not affect the integrity of the product -it's just what natural products do. It can melt and reform over again and not lose potency.
What is the best way to get it out of the bottle?
Place under warm/hot running water or at the bottom of your shower/bath until some of it to liquid. You only need a small amount of liquid that can be applied everywhere - body, hair, hands, and feet.
How do I add Idan oil to my routine?
Use as a daily luxury, fresh out of the shower on damp skin, as a special massage oil. As an intensive moisture treatment massage all over the body, through the ends of hair and layer Shea butter over areas like feet, knees and elbows. Pop on some cotton PJ's and socks. Wake up baby soft!
Can I use it on my face?
As Idan oil is a base of coconut oil. Coconut can be comedogenic on some skin types, which means it can clog pores. So we don't recommend using it as a facial oil, although some of our customers love using it on their face. It is not recommended for those with very oily skin, however some others swear by it!
What is the difference between Ivory and Gold Shea Butter?
At LIHA Beauty we offer two types of vegan raw Shea butter: Ivory and Gold. Both our Shea butters are unrefined. The difference in colour is attributed to the region in which the Shea butter was extracted and can also be based on the season and production methods. The same amazing skin health properties remain, regardless of the colour, however, depending on your personal usage of the butters you may prefer one over the other. Both are rich in Vitamins A and E and work wonders for multipurpose moisture.
Ivory Shea butter is from Ghana and can be crumbly in texture. It has a nutty vanilla scent, it's perfect butter for keeping small areas such as the lips, hands and feet moisturised on the go. 
Gold Shea butter is from Nigeria and has a more smoky, earthy smell remnant from the roasting process of the Shea fruit and waxy in texture. It can be seamlessly smoothed into larger areas of the body as well as being the quintessential weapon against dry, flaky and itchy scalps.
They are both really hydrating and nourishing but we would say the Gold Shea butter is slightly more moisturising and have had amazing reviews for treating eczema and other skin conditions. Check out what some of our customers told us about using our raw Shea butter to treat their eczema.
I have Psoriasis -can I use Shea Butter?
Psoriasis sufferers are advised to patch test before use as Shea butter encourages the regeneration of skin cells. People with psoriasis have an increased production of skin cells resulting in the build-up which is what is associated with psoriasis. Some people have found it helpful for the condition.
Does raw Shea butter work well for eczema?
The short answer is Yes but everyone's skin is different. While our raw Shea butter have had some rave reviews from customers you will need to try it for yourself - HERE
Raw Shea butter is super Rich in Vitamins A, E and F Shea butter is an all natural treatment for eczema that can help to reduce flare ups, minimise scarring and give relief from itchy, skin.
Are your products suitable for during pregnancy and/or nursing?
As most women prefer to use unscented products during this time, our Shea butter is a customer favourite to keep stretch marks at bay during pregnancy and as a nipple balm during nursing. It even works wonders as a nappy balm!
Can I use raw Shea butter on my face?
Shea butter is great for hydrating most of your skin and is low on the comedogenic scale. However, raw  Shea butter is very thick and rich, and can make some people break out but everyone is different and we have customers who use it on their face with no issues. We, therefore, advice you to patch test for yourself to see if it suits your skin. Personally, I use it on dry patches of my face especially in winter or as a 10 minute face mask.
So,if you need a hit of hydration on your face, leave the Shea butter on for about 10mins and then use a warm flannel or micellar water to gently wipe away.
Soap tends to dry out my skin, is Ose Gidi drying?
No! The reason it is called Ose Gidi is because our blood sweat and tears went into the formulation. It took us over a year to get it to the point where it wasn't drying. We added some beautiful oils to the traditional Nigerian recipe to add much needed moisture.
Can I use it on my hair?
Yes! All our products are multi purpose and many people love to use our soap as a solid shampoo.
Is Ose Gidi good for Acne?
Many customers have reported a marked improvement in their acne and scarring after using Ose Gidi.
Why is my candle burning unevenly?
Check out our journal on Candle Care 101 and how to prevent tunnelling 
here
.
In Love
The candle smells divine!!! I've been burning it ever since!! Need more candles
Purchased as a gift
The product is fantastic, slightly expensive so bought as a gift. Quick dispatch and arrived safely and well packaged
disappointed by the poor advertising off discount of first order as conditions apply but we're not stipulated. Good communication though.
Beautiful Gift
I've bought this for a friend for her birthday, it arrived today (super fast delivery)and its really lovely. I wish it was for me!
Everything in the set smells amazing and I really love the simplicity of the packaging. I'll definitely be ordering for myself. Beautiful gift and a lovely brand.
Thank you!
Discovery Set is a Great Idea!
I can stop my search for a new body butter! This was a great way to try a lot of products before committing to a larger purchase. Both of the body butters are great and my skin feels deep down moisturised again. I also love the scent of the candle - relaxing and soothing. Quality products.