Elevate your selfcare with this sumptuous duo
Regular price
Sale price
$84.00 USD
Unit price
per
Sale
Sold out
Free UK delivery over £40.00 | 60 Days returns
Product description
"There must be quite a few things a hot bath won't cure, but I don't know many of them. Whenever I'm so sad I'm going to die, or so nervous I can't sleep, or in love with somebody I won't be seeing for a week, I slump down just so far and then I say: 'I'll go take a hot bath' " –– Sylvia Plath 
You need these products on the side of your bath at all times in case of an emergency!
Light the candle, pop the oil in, and wait for it to melt. Massage yourself back to calm, allow the calming scents to lull you into a deep sleep.
Ingredients
Idan Oil:
Cocos Nucifera (Coconut) Oil, Flower Parfum (Fragrance), Polianthes Tuberosa (Tuberose) Flower, *Benzyl Benzoate, *Linalool, *Cinnamal, *Benzyl Alcohol. *Naturally occurring in the fragrance.
How to use
Idan Oil:
This natural product will solidify in cooler temperatures. Opt out of being busy for a while whilst you wait for it to melt.

Place under warm/hot running water or in your shower until it returns to liquid. 
After bathing or showering apply to damp skin, massaging all over the body to leave a glowing silky finish.

We love to use this for absolutely everything from leave-in hair conditioner to body oil, or if we are feeling really indulgent, slathering it head to toe before bed and rinsing off in the morning for truly silky fragranced skin. Some customers have even been known to decant it and use as a solid perfume. Let us know what new uses you discover.
Queen Idia Candle:
The burn time for the 90g is 15 hours and the 220g is approximately 40 hours.
Liha's Tip:

Try flame gazing if you find you are too restless for straightforward silent meditation. Play some high vibrational music or frequencies (852 hz is a personal fave, look on youtube). Sit comfortably, light the candle and take some deep breaths. Focus all your attention on the flame moving and your breath. When you become distracted just watch the flame, and watch your thoughts go by with it. Distance yourself from 'monkey mind' and come back to the present.
Shipping & Returns
Processing Time
Please 1-2 working days to prepare & ship your order.
Transit Time
US Shipping: 5-7 working days
UK Shipping: 2-3 working days
EU Shipping :3-7 working days
Rest of the World: 5-14 working days
*All international customers are responsible for all customs and duty fees that are incurred during transit*
Processing + transit time excluding weekends and public holidays.
Refunds & Exchange
We are happy to accept returns and offer exchanges, credit note or refunds on any product you are not completely satisfied with, simply return the unused/unopened product in its original packaging within 60 days of receipt. Please return the item/s using the returns label that comes with your order.

Unfortunately, we cannot bear the cost of shipping the returned item.
Please email: info@lihabeauty.co.uk if you have any issues or inquiries
View full details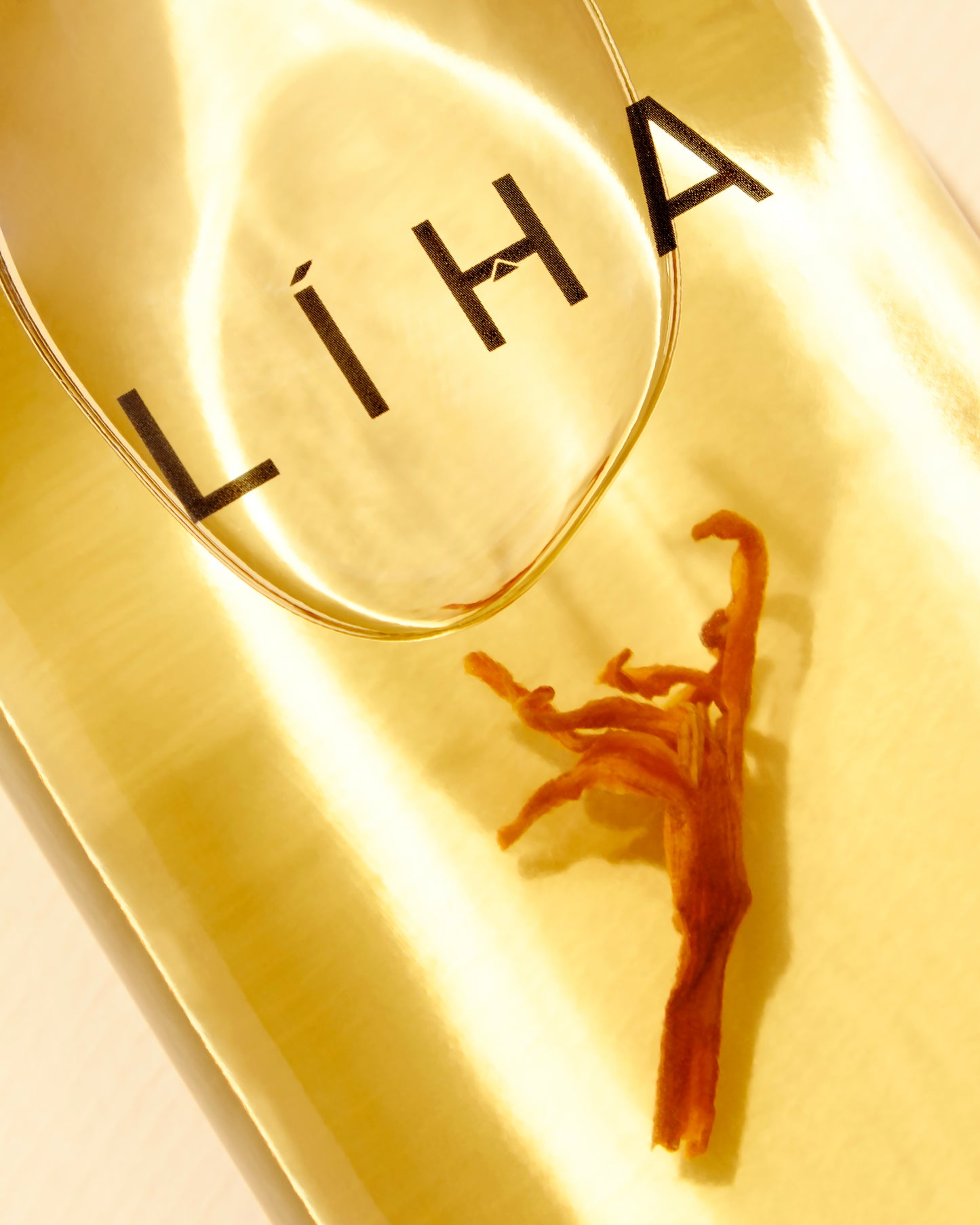 FAQ
Why is my Idan oil solid?
Our Idan oil is made from high grade coconut, so anything natural will change texture depending on the temperature. So in hotter climates (above 28 degrees Celsius) the oil will stay liquid but once the temperature starts to cool it will start to solidify – this does not affect the integrity of the product -it's just what natural products do. It can melt and reform over again and not lose potency.
What is the best way to get it out of the bottle?
Place under warm/hot running water or at the bottom of your shower/bath until some of it to liquid. You only need a small amount of liquid that can be applied everywhere - body, hair, hands, and feet.
How do I add Idan oil to my routine?
Use as a daily luxury, fresh out of the shower on damp skin, as a special massage oil. As an intensive moisture treatment massage all over the body, through the ends of hair and layer Shea butter over areas like feet, knees and elbows. Pop on some cotton PJ's and socks. Wake up baby soft!
Can I use it on my face?
As Idan oil is a base of coconut oil. Coconut can be comedogenic on some skin types, which means it can clog pores. So we don't recommend using it as a facial oil, although some of our customers love using it on their face. It is not recommended for those with very oily skin, however some others swear by it!
How do I use it on my hair?
If you have afro / curly type hair you can use it as a leave-in to help with hydration. If you have finer hair, you can use it as a pre-conditioner, so leave it in for up to 15 minutes and wash and conditioning as you would normally. Or, you can run it through the end of your hair if you ends need hydration/ as an overnight treatment and shampoo out in the morning.
Why is my candle burning unevenly?
Check out our journal on Candle Care 101 and how to prevent tunnelling 
here
.
Luxury and magic! ✨
I am in love with the products in in the SelfCare Set! The luxurious IDAN body oil and the beautiful Queen Idia candle. The scent for both is absolutely intoxicating and pure magic.
I found out about the brand while listening to the magnificent FKA Twigs and I will not be on auto replenish for the oil. The smell is strong yet subtle. It has immediate presence but it also lingers for a while. I am using it on my body but also on my hair as a hair mask on the days that I want to just do my Freida braids and look put together and smell sensual. Thank you for making this magic! Wish you were at Credo Beauty or had a flagship in New York City so that I can just go and grab it and gift it on demand! Thank you Abi and Liha for a most wonderful gift to my Self and my soul!
pure bliss..
Love these products and how they make me feel....just heavenly.
Great gift
Perfect birthday pressie for a friend who needs to chill. The entire line is so good that these little guys are perfect for people who've yet to try x
I still haven't received the items I've purchased. Can you let me know when they are due to arrive please? Thanks
Excellent
I bought the set for my wife. She absolutely loves it. Swift delivery too.
Thanks.