Raw Shea butter. You've definitely heard of it, seen it or used it in some capacity or another. One of nature's many gifts to skincare humanity is the deeply moisturising, healing and nourishing properties of raw African Shea butter. Sourced from the 'karite' (Vitellaria) tree, which is indigenous to Africa, raw shea butter is the oil-rich extract of the shea fruit. It is a wholly vegan ingredient found in most beauty products. It's an essential plant-based component of choice when it comes to skin and hair care products due to its naturally occurring chemicals that are similar to those found in the body's sebaceous glands (sebum). And luckily for you, at LIHA we use only the very best raw shea butters which are unprocessed, natural and ethically sourced from Nigeria (courtesy of co-founder Abi's father's town!) and Ghana. 
Raw Shea butter is the number one self-care ingredient that puts all fancy and expensive beauty treatments to shame. In its most pure, unrefined state shea butter is full of vitamins A, E and F making it the perfect remedy for maintaining healthy, clear skin, protecting against and restoring sun damaged skin as well as preventing wrinkles and facial lines. It's also a multi-purpose product that can be used to alleviate symptoms of dry skin conditions such as eczema and psoriasis as well as the softening of dry and damaged hair.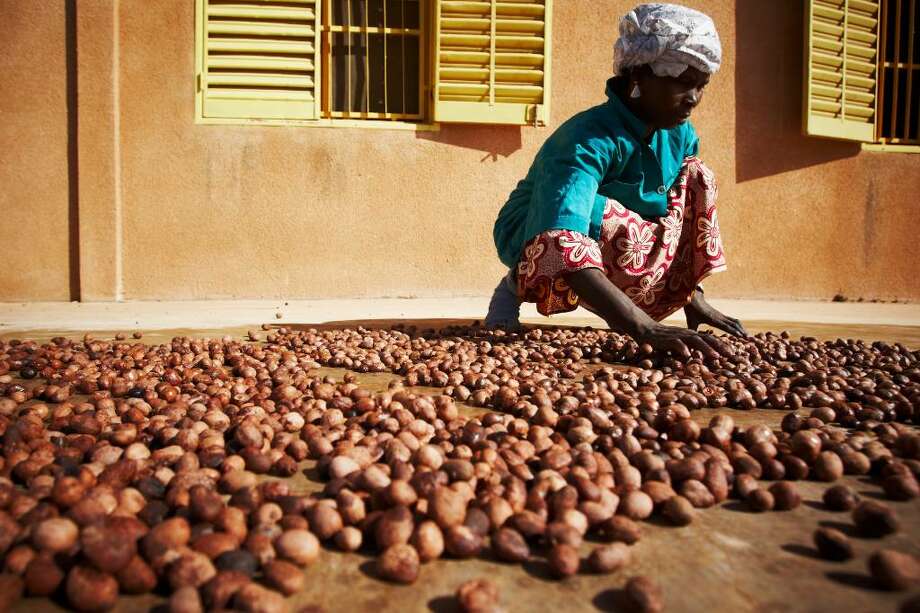 At LIHA we offer two types of vegan raw shea butter: ivory and gold. The difference in colour is merely attributed to the region in which the raw shea butter was extracted and can also be based on the season and production methods, . The same amazing health properties remain, regardless of the colour, however, depending on your personal usage of the butters you may prefer one over the other.
Ivory shea butter can be crumbly in texture and has a nutty vanilla scent... it's perfect butter for keeping small areas such as the lips, hands and feet moisturised on the go. 
Raw Gold shea butter has a more smoky, earthy smell remnant from the roasting process of the Shea fruit and waxy in texture. It can be seamlessly smoothed into larger areas of the body as well as being the quintessential weapon against dry, flaky and itchy scalps. 
Identifying whether your shea butter is 100% natural can be difficult, but there are some tell-tale signs to look out for. Refined Shea butter (Shea that has been extracted using hexane or other petroleum solvents - making it void of the amazing natural properties) is usually scentless and bleach white in colour and is not to be confused with ivory Shea butter. The most organic raw Shea is the unrefined, virgin butter which is extracted without the use of chemicals and preservatives; it's the way African people have been producing it for centuries! 
Benefits of Raw Shea Butter
With a plethora of benefits and uses, here are some of the ways our shea butters can make you feel and look your best:  
As a skin moisturiser and sun-protectant
A lip plumping and soothing lip balm
A nourishing and restorative hair treatment incorporated into a deep conditioner
Under make-up to reduce the appearance of dry patches 
As a natural diaper rash treatment for the delicate skin of babies
Mixed with essential oils to make a long-lasting vegan perfume
Storage is important when it comes to maintaining the shelf life and properties of your raw Shea butter. Raw, unrefined Shea butter like the ones we have at LIHA typically have a shelf life of 24 months. It's imperative to keep it in an air-tight container and it should be stored away from direct sunlight. LIHA shea butters come packaged in glass containers making it more insulating, sturdy and ethical than other types of packaging.
However, the best thing about our Shea is that it supports the Global Shea Alliance. Shea Alliances help to ensure fair practices and fair wages within the Shea production line. The women who produce Shea are often forced into subsistence farming, using whatever they produce to feed themselves and their families. Poor soil and droughts mean that often they do not have enough to feed themselves let alone to sell at the markets. The lack of social infrastructure means that there is little support for these women and their families and they are often driven to leave their families to search for jobs in the city.
Shea alliances, such as 'The Global Shea Alliance,' help to streamline production processes, increasing production capacity and improving product quality to increase market share and demand for traditional raw Shea butter. Most importantly they ensure that the skilled women who make the Shea receive a fair wage that allows them to feed their families, send their children to school and receive healthcare. This allows them to feel independent and empowered in a society where they are often not allowed to feel either.
To learn more please watch the video below from 'The Global Shea Alliance.'